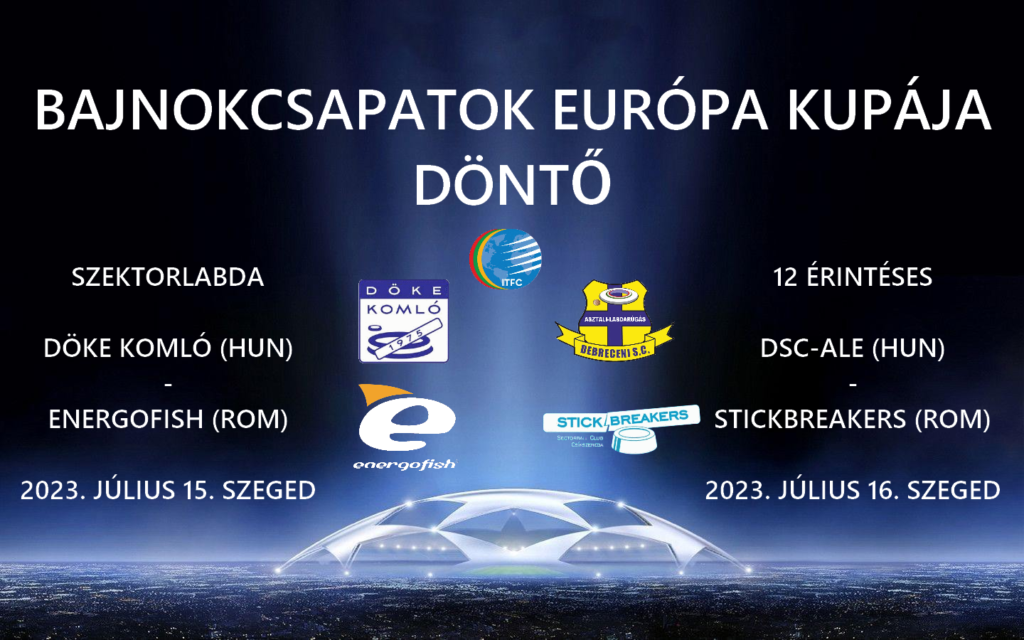 Excitement Builds as Szeged, Hungary Hosts the Table Football Confederation European Cup Finals.
Szeged, Hungary is set to become the center of European sport in table football as it prepares to host the highly anticipated European Cup finals on the 15th and 16th of July 2023. This prestigious event will showcase two exciting modalities of the table football game: Sectorball and 12 Touch. With the venue fully prepared and teams brimming with enthusiasm, fans can expect thrilling matches and fierce competition throughout the tournament.
In the Sectorball category, the Hungarian national champions, DÖKE Komló, will face off against the formidable Romanian champions, Stickbreakers Tirgu Mures. Both teams have shown their mettle in their respective national leagues and are eager to claim the European Cup title. DÖKE Komlo will rely on their home advantage and passionate fan base to propel them to victory having players like Tibor Szendei, György Pákai and Elemér Fülöp, while the Energofish Tirgu Mures will be determined to showcase their skill and disrupt the hosts' plans. Energofish star players Károly Moldován, Ervin Varga and dr Péter Havas will make their live debut in EC finals.
On the other hand, the 12 Touch competition promises an equally captivating showdown between the Hungarian champions, DSC-ALE from Debrecen with Nándor Kovács, Péter Matkó and Levente Kiss star players in team will face the talented Stickbreakers Miercurea Ciuc with István Marschal and Mihály Bajkó key players from Romania. The teams have demonstrated exceptional teamwork and tactical prowess throughout the season, and their clash in the finals is sure to be an epic battle. DSC-ALE will aim to defend their home turf and secure the European Cup crown, but the Stickbreakers Miercurea Ciuc will be eager to upset their opponents and make a name for themselves on the international stage.
The European Cup finals are sanctioned by the International Touch Football Commission (ITFC), ensuring fair play and adherence to the highest standards of the sport. The winning teams in both modalities will not only claim the coveted European Cup titles but will also earn the privilege of representing their countries in the next edition of the tournament, the European Cup 2024.
Fans from all over Europe are eagerly anticipating the thrilling matches and electric atmosphere that await them in Szeged. With passionate supporters, skilled athletes, and the stakes at an all-time high, the European Cup finals are poised to be an unforgettable event for both players and spectators alike.
As the countdown to the 15th and 16th of July begins, the participating teams continue their preparations, refining their strategies, and honing their skills to be in peak condition for the finals. The spotlight will shine on Szeged, Hungary, as it hosts one of the most prestigious touch football events in Europe, bringing the continent's finest teams together for a weekend of thrilling sporting action.