DSC-ALE 12 touch European Cup winner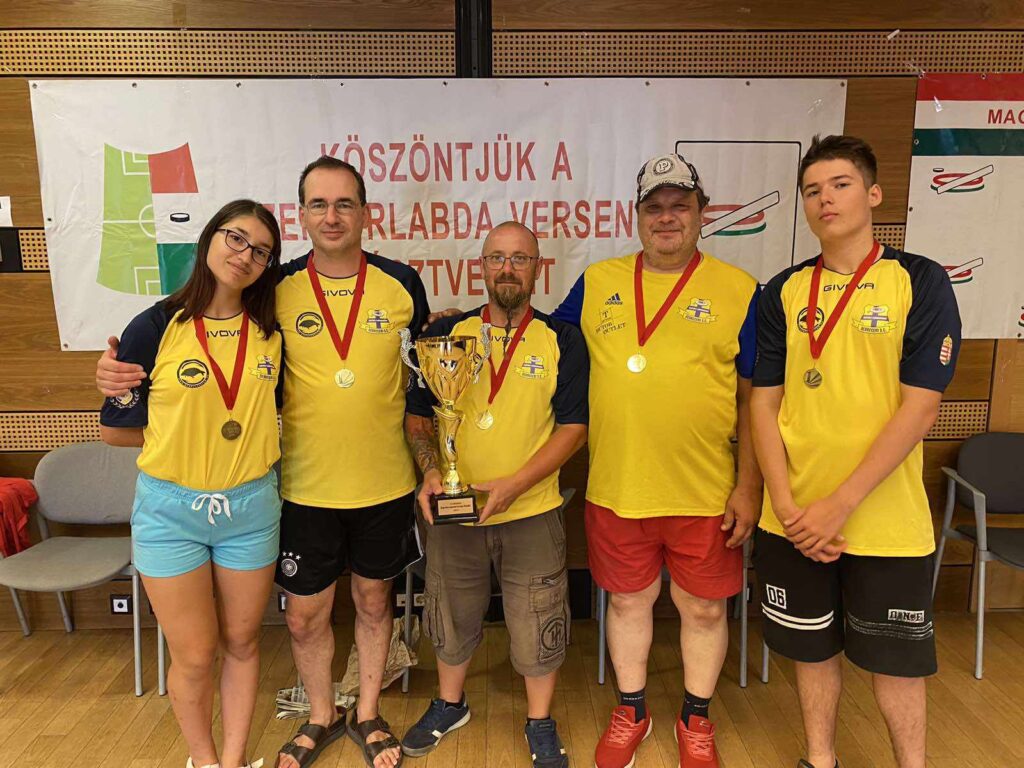 DSC-ALE Debrecen Clinches Victory as 12 Touch European Cup Champions
In a stunning display of athleticism and teamwork, DSC-ALE Debrecen from Hungary secured a resounding victory as the 12 Touch European Cup champions of 2023. The highly anticipated final, held in Szeged, Hungary, saw DSC-ALE face off against the formidable Stickbreakers from Miercurea Ciuc, Romania, in a match that would leave a lasting mark on the history of 12 Touch.
From the moment the referee's whistle signaled the start of the final, both teams exhibited their prowess in this fast-paced and exhilarating sport. DSC-ALE wasted no time in asserting their dominance, taking the lead in the first half with a score of 2-0. Their quick passes, strategic movements, and sharp shooting left the Stickbreakers struggling to keep up.
The Hungarian team's Nándor Kovács, Péter Matkó, László Puskás, and Dóra Matkó were instrumental in their success, showcasing exceptional skills and a deep understanding of the game. Their seamless coordination and ability to read each other's plays gave them an edge, enabling them to outmaneuver their opponents at every turn.
However, the Stickbreakers from Miercurea Ciuc put up a valiant fight, demonstrating their determination and resilience on the field. Led by players like István Marschal, Mihály Bajkó, Zsolt Csutak, Attila Bodó, and Attila Bors, the Romanian team gave it their all to break through the solid defense of DSC-ALE. Despite their efforts, the Stickbreakers couldn't overcome the relentless attacks and well-organized defensive structure of their Hungarian rivals.
As the second half kicked off, DSC-ALE maintained their momentum, adding another two points to their tally, making the final score an impressive 4-0 in their favor. The cheers from the home crowd in Szeged reverberated through the stadium as DSC-ALE celebrated their hard-fought victory.
The 12 Touch European Cup title not only brings glory to DSC-ALE Debrecen but also grants them an automatic spot in the next edition of the tournament, the European Cup 2024, where they will have the opportunity to defend their title against the best teams in Europe.
As the players from both teams exchanged handshakes and congratulatory words after the final whistle, it was evident that the spirit of sportsmanship was alive and well in this intensely competitive match. The Stickbreakers from Miercurea Ciuc showcased immense talent and should be proud of their journey to the finals, where they proved their worth as a formidable force in the 12 Touch category.
The 2023 edition of the 12 Touch European Cup will be remembered as a thrilling and memorable tournament, with DSC-ALE Debrecen emerging as the undisputed champions. Their triumph is a testament to their dedication, skill, and teamwork, and it cements their place as one of the premier teams in European 12 Touch. As the celebrations continue, fans eagerly await the next edition of the European Cup, where the world of 12 Touch will once again come alive with electrifying competition and exceptional talent.