DÖKE Komló Sectorball European Cup winner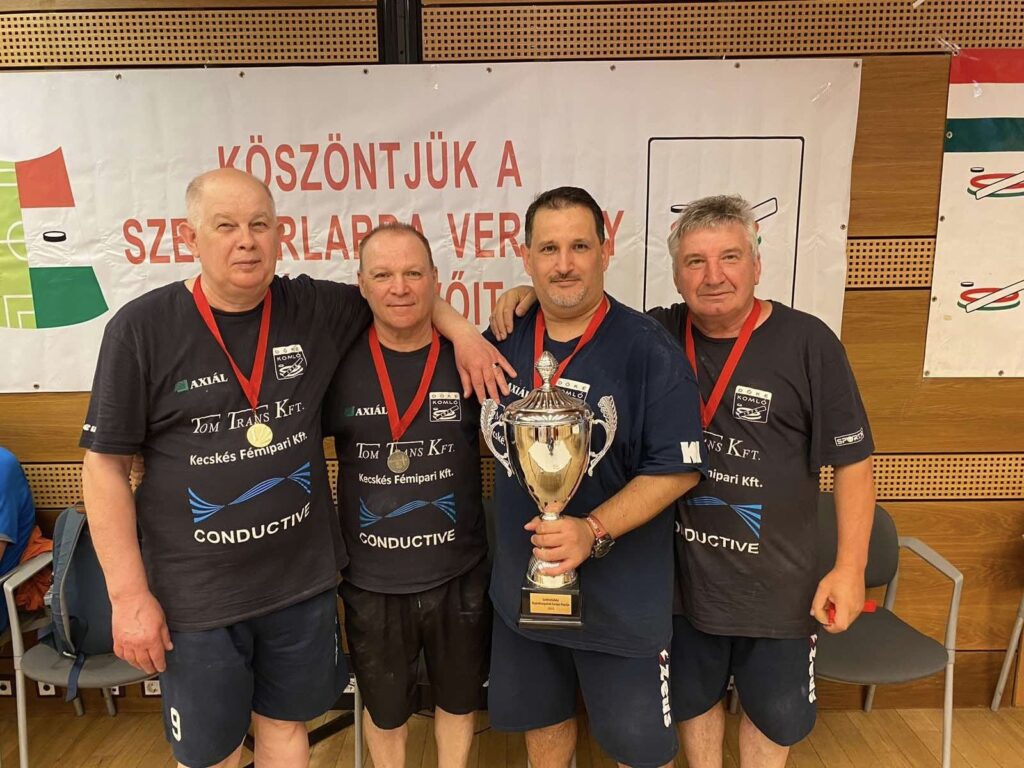 DÖKE Komló Triumphs as 2023 Sectorball European Cup Champions
In a thrilling and action-packed final held in Szeged, Hungary, DÖKE Komló emerged victorious as the 2023 Sectorball European Cup winners. The highly anticipated match saw DÖKE Komló, representing Hungary, go head-to-head against Energofish Tirgu Mures from Romania, creating an intense battle that kept spectators on the edge of their seats throughout the 8 exciting games.
The atmosphere at the venue was electrifying as fans from both teams cheered on their favorite players, creating an incredible ambiance for this prestigious continental showdown. From the first whistle to the last, both DÖKE Komló and Energofish Tirgu Mures displayed their exceptional skills and determination, leaving no room for a lackluster moment in the final.
DÖKE Komló started the game with a bang, taking an early lead in the first half, with a score of 3-0 in their favor. The Hungarian team showcased their strong offensive tactics and solid defense, making it challenging for Energofish Tirgu Mures to break through their lines. However, the Romanian side showed resilience and fought back in the second half, leveling the score to 2-2.
As the tension mounted, spectators were treated to a nail-biting battle, witnessing incredible saves, precise passes, and stunning goals from both teams. DÖKE Komló's Tibor Szendrei, György Pákai, János Trecskó, and István Major were instrumental in securing the victory for their side, displaying exceptional individual performances and remarkable teamwork.
On the other hand, Energofish Tirgu Mures' Károly Moldován, Dr. Péter Havas, István Incze, and Lehel Valics fought valiantly until the final whistle, showcasing their passion for the sport and never giving up on their quest for the European Cup title.
When the dust settled, DÖKE Komló emerged as the champions, defeating Energofish Tirgu Mures with a final score of 5-2. The Hungarian team's performance throughout the tournament and in the final was commendable, earning them the well-deserved honor of being crowned as the 2023 Sectorball European Cup winners.
The victory not only brought glory to DÖKE Komló but also secured their place in the upcoming European Cup 2024, where they will have the opportunity to defend their title against other top-tier teams from across Europe.
As the celebrations erupted among the DÖKE Komló players and their fans, the sportsmanship displayed by both teams was truly commendable, and they left the field with their heads held high, knowing they had contributed to an unforgettable final that will be remembered in the annals of Sectorball history.
The 2023 Sectorball European Cup was a resounding success, showcasing the best of European touch football talent and sportsmanship. With DÖKE Komló reigning as champions, the anticipation for the next edition of the tournament is already building, promising even more thrilling moments and fierce competition in the world of Sectorball.