In Rio de Janeiro, Olaria wins the 2023 Sectorball State Team Championship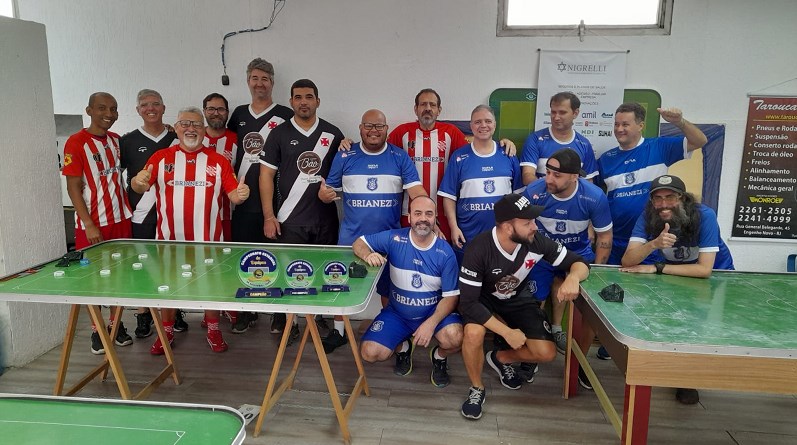 Held on the premises of Olaria Atlético Clube, the Rio de Janeiro State Championship of Sectorball Teams ended with the victory of the hosts, the club's first title in the modality.
Disputed in a single shift, the tournament required a lot of concentration from the participating athletes, as any individual failure could cost the teams dearly. In this way, the games were marked by the mixture of refined technique with a dose of tension. However, despite the nervousness, the matches were very good and no incidents occurred, prevailing the cordial atmosphere between the associations and athletes. After the end of the games, Olaria and Vasco da Gama found themselves tied in points, with the title being defined in tiebreakers, where the blue and white team had a small advantage over the current world runners-up, resulting in an unprecedented champion.
Results:
Olaria 1×1 Vasco
Vasco 3 x1 Bangu
Bangu 0 x 3 Olaria
The equilibrium and the results show that sectorball in Rio de Janeiro is becoming stronger and stronger, crowning not only a new champion, but also showing the strong work of all associations in favor of the modality.
The next team competition will be the Brazilian Championship, in July, to be held at Botafogo. The tournament will have the title defense of the current Brazilian champion, Bangu.
Text: Felipe Maciel (FEFUMERJ Sectorball Communications Director).
Images: Marcelo Coutinho (FEFUMERJ Sectorball Technical Director).
This article was reproduced from the official website of FEFUMERJ.